Skip to Content
Wooden Shipping Crates in San Francisco
Wooden Shipping Crating Services
At Bay Area Crating Services, we offer customized wooden shipping crates services throughout San Francisco, and the nearby areas, allowing you to safely, easily, and conveniently move your valuables from one location to the other. With our emphasis on punctuality, professionalism, and truly customized crating services, we firmly believe that our 25-plus years of experience in offering custom wood shipping crates services has made us  preferred choice for wooden crates. If you need to transport valuables anywhere within  the surrounding area on either a residential or commercial scale, reach out to us today.
Why Choose Bay Area Crating?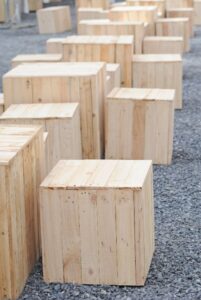 With nearly three decades of experience in transporting valuables across the city and country using our wooden shipping crates, the Bay Area Crating Services team has fine-tuned the process down to a science. We pride ourselves in providing not just the best in custom wood crate products, but also in our custom crating services, as the two go together. We understand the importance of having products or valuables sent on time, which is why no matter the size of your order, your custom wooden crates will arrive on time. All our custom crating services are offered at extremely competitive prices, not just in   the Bay Area, but in the surrounding states. If you have a large commercial order, our team will sit down with you to design a custom quote for your team. Finally, there's no denying that service makes or breaks a company; at Bay Area Crating Services, we aim to not just meet, but exceed clients' expectations with our exceptional service. Move your valuables with us and see the Bay Area Crating Services difference for yourself today. You won't regret it.
Our Wooden Shipping Crate Solutions
Our solutions include full-service packing and crating of your valuables, both for commercial and residential clients. It doesn't matter if you need a one-time shipment for a move, or if you need monthly, custom crating solutions. We have your back and will make sure your shipment arrives safely and exactly when it should. From antiques to art pieces to furniture, we'll provide shock absorbing wooden crates that will guarantee the safe arrival of your valuables. Size, weight, destination, and the delicacy of your item do not matter—our  wooden shipping crates can and will be 100% customized to match your needs and requirements.
All wood used in our custom wooden shipping crates is heat treated, and we can provide the ISPM 15 export stamp, verifying that our heat treatment meets the standards set forth by the International Trade ISPM 15 provision. With world-class products and services for your commercial and residential wood shipping crating needs in the Bay Area, we are proud to stand behind our professional grade custom crate services. If your family or organization requires the best crating services, then reach out to us today.
Call (925) 479-0594 for a quote today.