Skip to Content
Electronics Crating in Sacramaneto & San Francisco, CA
Safe & Secure Electronics Shipping Solutions
Shipping electronics is a delicate business. These valuable and sensitive items must be treated with extreme care to ensure safe and secure transportation. All transportation requires a level of precision, but electronics are particularly susceptible to damage through transport if not properly crated and cared for.
Bay Area Crating Services understands the critical nuances required for the shipping of electronics and special equipment. We provide custom crating for unique situations, vapor barriers to prevent moisture and water damage, advanced packing material to dampen vibrations, anti-static wrapping, shock mounts, cushioning, and other services to preserve the quality and functionality of electronics as they venture across the country or the world. We pack and ship all types of heavy, awkward, large, sensitive electronics and assets throughout San Francisco. Our clients trust our team to take care of IT equipment, electronics, computers, laboratory testing equipment, and more with precision and care.
Contact us today to schedule your electronics crating and shipping services.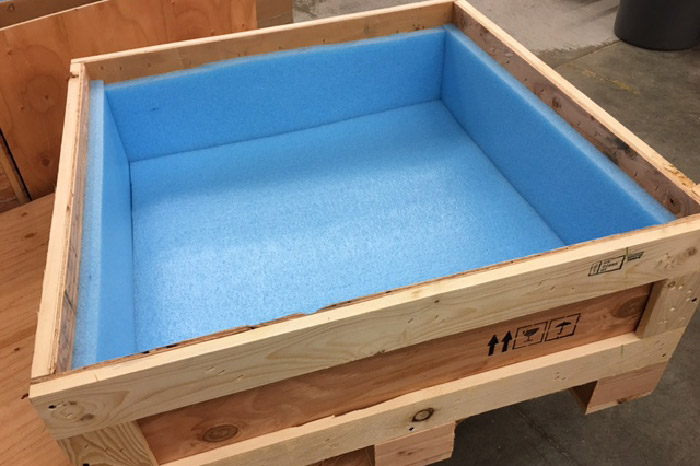 We Ship a Wide Range of Electronics
Our team uses state-of-the-art technology, tools, and techniques, compared with years of experience, to carefully and efficiently crate and package your assets to get them ready for shipping. Electronics require a unique approach to protecting your company's livelihood. We're well-versed in crating and transporting all types of electronics, including:
Computers
LCD Monitors and TVs
Video Conferencing Equipment
Sensitive Laboratory Equipment
Laptops
Servers Racks
Telecommunications Equipment
Stereo Gear
Your Electronics are Safe with Us
We take several precautions to make sure your company's electronics are carefully stored and protected, no matter how long they will sit in storage or how far they will go. When you choose us for your crating and transportation services, you can expect:
Custom wood crates to protect your assets
Double-wall cardboard containers for added padding
Strapped and wrapped palletization
Anti-static wrapping to minimize static shock damage to electronics
Floating decks that allow for movement in specific directions for sensitive equipment
Shock and tip sensors to prevent from items falling over
Vapor barrier bagging to secure equipment during long-term storage and in areas of high humidity
Why Bay Area Crating Services?
When it comes to your company's electronics and equipment, it's imperative that you protect your assets during travel and storage. Bay Area Crating Services provides comprehensive, careful crating, packaging, and shipping services for all types of electronics throughout San Francisco. We understand what goes into shipping electronics and that they require a keen eye and a zero-tolerance for outside forces to interfere during the entire process. We have years of experience helping companies of all sizes and industries safely and securely package and relocate their electronic assets and look forward to working with you next.
Contact Us Today
Contact us today to discuss your moving needs. We provide competitive rates on all our crating services, no matter your industry, size of company, weight of equipment, or amount of electronics you need. We keep your equipment safe and secure, allowing you to focus on your litigations and day-to-day operations.
Providing Solutions to a Variety of Crating Needs