Skip to Content
On Site Crating in San Francisco & Sacramento, CA
Commercial On-Site Crating Service
You can't predict when you'll need to send important cargo or manufactured goods immediately. When those rush jobs arise, you need an on site crating service that can rise to the challenge. Bay Area Crating Services in San Francisco, CA, and Sacramento, CA, offers a comprehensive range of on site packaging and crating services to meet your needs, regardless of industry or equipment.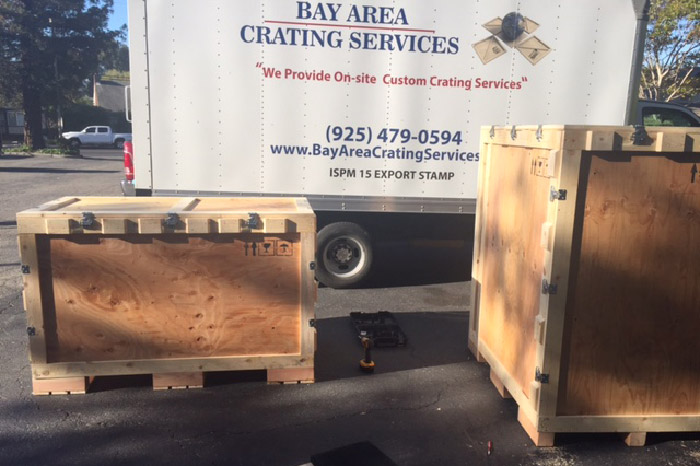 Understanding On-Site Crating
On site crating for commercial crating needs involves making custom crating solutions to package and ship your large, oversized, heavy, or fragile items directly at your facility. On site crating is a convenient and reliable solution that ensures your items are protected, meticulously packaged, and transported to deter damage and hassle, offering you a seamless crating solution.
On Site Packaging & Crating Service
Bay Area Crating Services offers reliable on site packaging and crating services for commercial customers in San Francisco and Sacramento, CA. Our crating professionals will travel to you with the necessary equipment to create a custom commercial crating solution on-site, eliminating the hassle that accompanies trying to relocate heavy, oversized, or awkward items on your own.
Innovative Crating Solutions
Bay Area Crating Services delivers innovative solutions for a wide range of shipping clients and circumstances, from commercial shipment to factory relocation and beyond. Our experts are equipped to handle emergency and last-minute orders that require pre-built or on site crating.
Custom Packaging
Bay Area Crating Services offers product-specific, custom-tailored packaging solutions to accommodate the needs of various industries and businesses, ensuring secure and resilient shipping of your items. Depending on the size, weight, and type of item you wish to have transported, our experts work diligently to determine the safest and most effective solution for your needs.
Custom Wood Crates
Our professional on site crating team offers custom wood crates to securely package and ship your furniture or other large items. Our team masterfully designs and fabricates wood crates tailored to the unique requirements, dimensions, and specifics of your item and needs to ensure ultimate protection during transit that awards you unrivaled peace of mind and comfort.
Corrugated Containers
Our corrugated containers are an excellent choice for those searching for a lightweight, sturdy, and economical packaging and shipping option. Designed and assembled to accommodate the specifics of your item, our custom corrugated containers boast the right amount of cushioning and support to protect your item during storage or shipping.
Pallets
For large-scale, heavy items, we offer custom pallet packaging and shipping. The stability of a pallet base provides secure stacking and loading capabilities, reducing the risk of damage during shipping. Our team will carefully measure and assess your item to ensure a pristine pallet fit and packaging, utilizing shrink-wrap straps to keep items from shifting.
Satisfying All Your Residential & Commercial Crating Needs
Bay Area Crating Services is the go-to destination for all your custom packaging and crating services. With decades of time-honored experience and a dedication to customer satisfaction, we offer the following services:
Choose Bay Area Crating Services
When you have a commercial crating demand, rely on Bay Area Crating Services for pre-built and on site custom crating solutions. Backed by over 25 years of experience, we've never seen a piece of equipment we cannot create a custom crating container to fit. With your satisfaction in mind, choose our professionals to ensure a seamless packaging and shipping process.
Schedule Your On Site Crating Service
Discover on site crating and commercial crating and ship solutions that save you time, resources, and effort, providing you with a seamless service that allows you to focus on your move, production, and operations. Contact us today to learn more about our pre-built and on site crating solutions and request your free, non-obligation estimate.
Providing Solutions to a Variety of Crating Needs