Skip to Content
Pre-Built or On-Site Crating in San Francisco, CA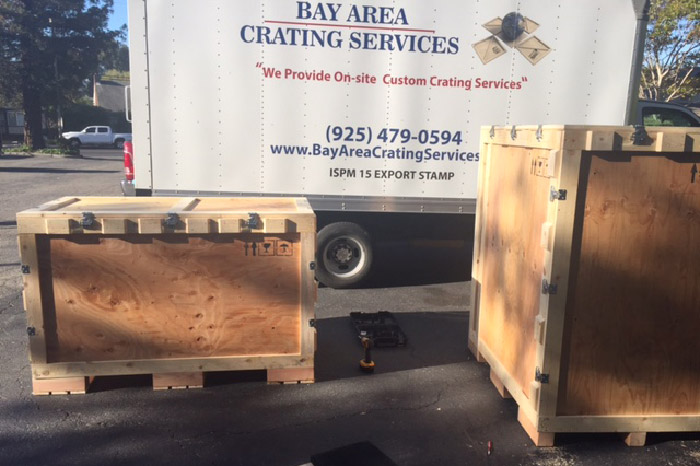 Commercial & Factory Crating Solutions
Sometimes, you simply can't predict when you'll need to send important cargo or manufactured goods immediately. But when those rush jobs happen, you need a crating services partner who can rise to the challenge. Bay Area Crating Services offers a comprehensive range of on-site packaging and crating services to meet your needs, no matter what industry you're in or how much equipment you have. Our logistics experts have years of experience helping your business or residence create a custom crate for specific items that require a unique approach and careful attention.
If you have awkward, fragile, heavy, or oversized items that require their own unique type of crating prior to shipment or storage, we're here for you. We come to you to provide cushioning, stabilizers, and proper containers to secure your equipment. Learn about our services and contact our team to schedule your appointment.
Innovative Crating Solutions
Bay Area Crating Services delivers innovative solutions for a wide range of shipping clients and circumstances, from a commercial shipment to factory relocation. We are well equipped to handle emergency and last-minute orders that require pre-built or on-site crating.
Our vehicles and highly trained personnel can build crates, containers, pallets, shipping boxes, and other packaging elements directly at your site. We can also arrive prepared for your special shipment with pre-built crating that is perfect for your needs.
Commercial Shipment
When your company needs commercial shipping solutions, we're here for you. We provide high-quality crating and shipping services for a wide range of industries throughout the nation. We are experts in crating on-site for equipment in data centers, industrial manufacturing, aerospace, military, and even the most sensitive lab equipment and electronics. Our rigging support and crating specialties take care of all your needs on your location, so you never have to worry about moving awkward, sensitive, and heavy items prior to our arrival.
Factory Relocation
Is it time to relocate your factory? Relocating a factory comes with a laundry list of logistics and equipment crating and shipping. Let the expert team at Bay Area Crating Services take care of all your factory relocation needs. We provide on-site crating, logistic solutions, and shipping services to carefully and efficiently relocate your industry equipment. We have years of experience and work with state-of-the-art tools and techniques to ensure your equipment is safe and secure during transport. Let's discuss your factory relocation needs.
Contact Us Today
To learn more about pre-built and on-site crating solutions, please contact us today. On-site crating and shipping solutions save you time, resources, and effort. We take care of all your needs, allowing you to focus on your move, production, and daily operation. Pre-built crating saves considerable time as we bring everything we need to your location to secure, package, and ship your equipment and resources. On-site crating is perfect for commercial needs when you have unique, awkward, oversized, and heavy equipment that requires moving. We've never seen a piece of equipment we cannot create a custom container for. Contact our team to discuss your crating and shipping needs.
Providing Solutions to a Variety of Crating Needs