Skip to Content
Medical Equipment Crating in San Francisco
Bay Area Crating Services Can Package Your Medical Equipment
The professionals at Bay Area Crating Services are adept at medical equipment crating in CA. When you need to prepare your heavy, fragile, and expensive machinery for transport, let our team help. We have spent more than 25 years in the industry, offering innovative and secure custom crating solutions for all types of equipment. Medical equipment is among our specialties, and our customers have grown to trust our world-class crating expertise whenever they need to ship such valuable apparatuses. Whether you need to transport one piece of equipment to a new office or you are relocating an abundance of gear to a state-of-the-art facility, we can help. With on-site crating capabilities, we make the process easy for you, so call us today to get started.
We Customize Medical Equipment Crating for You
Medical equipment comes in a variety of shapes and sizes, so there is no true standard crating option. But Bay Area Crating Services can customize crates so that your machines fit snugly for safe, secure shipping. We will use our expertise to determine ideal dimensions and techniques before building your crates on-site. Our team is known for careful attention to detail and high-quality solutions, so you can rest assured your equipment is safe with us. After creating a crate suitable for your devices, we will securely mount your medical equipment to skids, cushion it, and secure it for stable transport, regardless of the distance it will be traveling.
Our Solutions are Valid for All Types of Equipment
Medical equipment is far-ranging in shape, size, and scope. Because of the many types of devices, you need to rely on a company with extensive custom crating expertise. Bay Area Crating Services is proud to have more than two decades' worth of experience in the industry, and we are more than capable of crating all of your medical devices. We tailor packaging to meet our customers' needs by designing stable crates with precise configuration to minimize any risk of damage during shipping. The types of medical equipment for which we can create custom crating solutions include:
CT scanners
Diagnostic devices
Hospital furniture
Lab equipment
Laser scanners
MRI machines
Surgical equipment
X-ray devices
Contact Bay Area Crating Services in Today
Medical facilities use valuable equipment to help save lives daily. But before the devices arrive in laboratories, operating rooms, and patient areas, they must endure transport from the manufacturer or other facilities. To ensure delicate transportation that keeps your machinery safe and secure, trust the medical equipment crating solutions from Bay Area Crating Services. We provide custom crating solutions for customers from CA, and throughout the surrounding area. Do not risk damage to your expensive equipment. Contact us today for a consultation.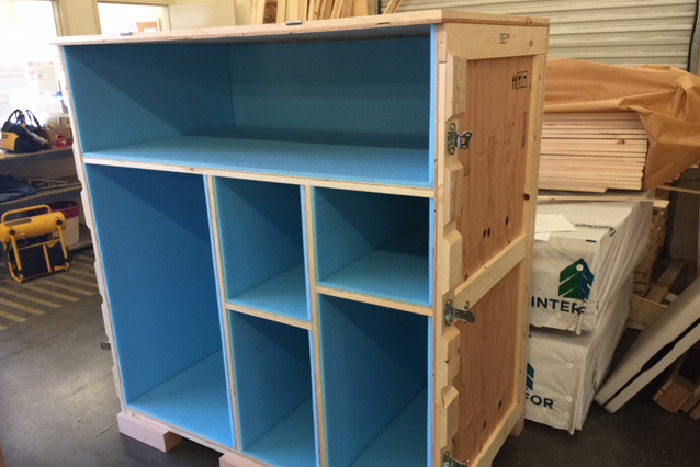 Comprehensive Medical Crating Solutions
Bay Area Crating Services uses the most advanced, up-to-date crating methods and packaging materials to guarantee the complete protection of your medical equipment. Regardless of the size and shape of your machinery, we can create medical equipment crating solution for you. Our proficiencies include:
Crating for oversized or unusually-shaped devices – Not all medical equipment is alike, and many pieces have protruding accessories or attachments that make crating complicated. But our team customizes crates to fit all types of equipment.
Vapor barriers – Electronic medical equipment is vulnerable to moisture damage from humidity or water that infiltrates packaging, so we provide vapor barriers for added protection.
Pre-built and on-site crating – We have crate styles that we build for medical equipment of standard sizes, but also offer on-site crating services for uniquely-shaped devices.
Shock mounts and cushioning – Whether you are shipping your medical equipment via ground, ocean, or air, you want to protect it against any bumps along the way. Our shock mounts and cushioning will ensure any shifts during transit do not damage your medical equipment.
ISPM-15 certification – Our medical equipment crating adheres to ISPM-15 certification standards, meaning it meets international shipping regulations regarding consolidation, protection, and bracing.
Providing Solutions to a Variety of Crating Needs