Skip to Content
Commercial Crating in Sacramento & San Francisco, CA
Commercial Crating Solutions
Serving Your Industrial & Business Needs
When you need custom crating in  San Francisco, CA, call Bay Area Crating Service. We can take care of all your commercial crating and international crate shipping needs. For over 25 years, we have served our local Bay Area community in all their residential and commercial crating projects. Our on-site custom services set us apart from our competitors, so you'll want to choose Bay Area Crating Service each time you ship. If you're in a pinch or need a job done quickly, there's no need to fear. You can count on our emergency and last-minute services for quality custom crating you can trust. As your neighborhood leader in the shipping industry, we take great pride in delivering superior service with each and every order. Contact us today to learn more or receive your free quote.
Crating Services for Your Business and Industrial Needs
Whatever your business or industry, we know you want a trustworthy company to take care of all your crating for any shipping you may require. Getting materials from one location to another requires great care and dependability. Here at Bay Area Crating Service, we offer custom crating solutions so we can cater our crates to whatever your business requires. While our custom crates can be designed for any project, we routinely provide crating for the following commercial needs:
Lab equipment
Sculptures or artwork
Manufacturing equipment
Ramps
Trade show crates
Custom Crating Solutions for Any Shipment
With Bay Area Crating Service, you can ship your valuables with peace of mind. We understand that one-size-fits-all boxes aren't always the best way to protect your commercial goods, that's why we offer quality custom crating. Whether your business is located in San Francisco, CA, our team can design everything you need to get your inventory where it needs to go. Select from custom packaging, pallets, containers, and crates. Opting for custom crating has distinct advantages over traditional shipping methods. The high-quality lumber and superior craftsmanship that go into each of our custom crate designs are only the beginning of our custom benefits. Our custom crating services boast the following:
Reduced damage to valuables
Ability to be easily and safely stacked
Optimal size for your materials
Reusability
Less expensive freight costs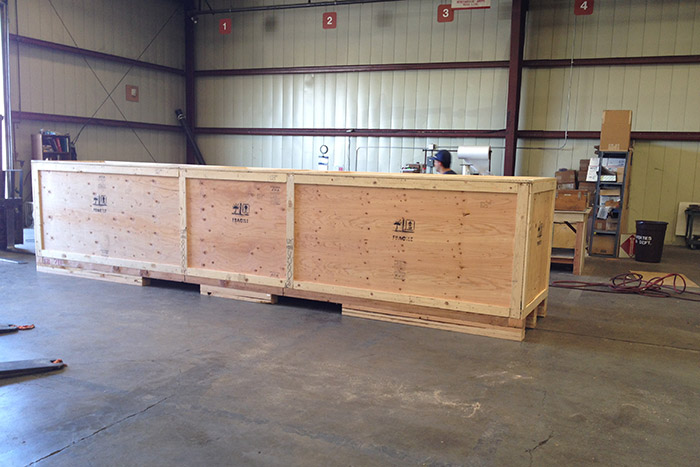 Bay Area Crating Service Keeps Your Goods Safe
Don't leave your precious cargo unprotected. Opt for our shock mounting and cushioning services. Whatever you are shipping, we can make sure it gets where it's going safely, so you have one less thing to worry about. Using innovative internal and external packaging materials prevent events like drops, shocks, vibrations, and skidding from damaging your items. We dampen shock risk to preserve the value of your items while they are in shipment.
Ideal for Keeping Your Goods Safe
Our commercial shipping services are up to date with ISPM-15 Certification standards as well as European Union Certifications. You can rely on us for both on-site crating services, as well as emergency jobs. Our vapor barrier shipping technology is ideal for keeping your goods safe during transportation. Need something packed up securely and sent last-minute? We can do it all – from small business shipments to large industrial crating. Contact us now at 925-479-0594 for more information or a free quote.
Providing Solutions to a Variety of Crating Needs