Skip to Content
About Our Custom Crating Services in San Francisco/Bay Area, CA
Bay Area Crating Services: Locally-Owned for Over 25 Years
Bay Area Crating Services is a reliable and experienced provider of custom crating and shipping services in San Francisco/Bay Area, CA. We got started over 25 years ago as a woman co-owned business. Within that time, we have built our reputation as the area's premier custom crating and packaging provider.
We offer friendly, professional services to our commercial and residential customers, with quick response times and fast turnarounds to get shipments out as soon as possible. We even offer emergency and last-minute jobs when you simply can't wait another day to have your items shipped. Learn more about us here. Then, contact us to request a free quote on your upcoming shipping project.
Who We Are: Custom Crating Company
At Bay Area Crating Services, we understand that you need dependable packaging to ensure your items reach their destination safely. Our crating approach is unmatched by USPS and other ordinary shipping companies, allowing us to handle items of all types and sizes. We believe there's nothing we can't crate and ship!
Our innovative internal and external packaging techniques include shock mounting and cushioning services to help your items withstand drops, shocks, vibrations, and skidding. Whether you're transporting medical equipment, car parts, electronics, or a grandfather clock, we have you covered with custom crating.
What We Do: Domestic and International Shipping
We are prepared to assist you when you're ready to schedule your next shipment. If you need us to come to your site for an emergency job, we'll be there for you! We specialize in fully customizable, last-minute services to help you get your items in transit immediately.
Shipping internationally? Rest assured that our shipping services in San Francisco/Bay Area, CA are up-to-date with ISPM-15 Certification standards and European Union Certifications. We use compliant, heat-treated wooden crates with ISPM 15 export stamps for shipping products across international borders.
Our Objectives as a Leader in the Shipping Industry
As a foremost provider of custom crating in San Francisco/Bay Area, CA, we take great pride in delivering exceptional work every time. Our goal is not only to ensure your product arrives quickly but also in the exact condition in which it left—all at a competitive price. We are certain you'll see the difference when you choose to ship your oversized, heavy, or valuable items with us.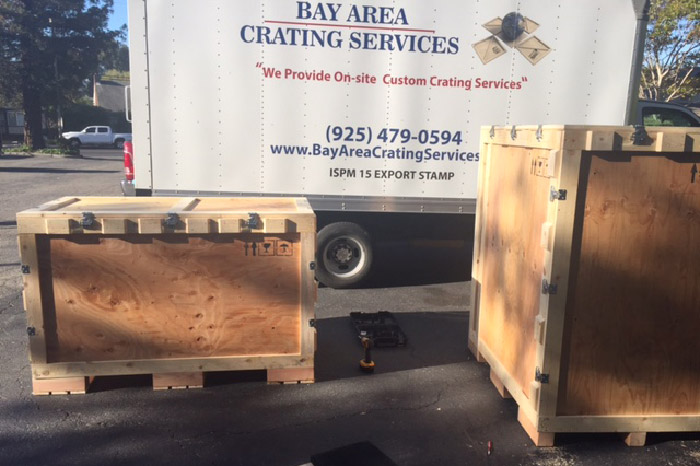 What Sets Us Apart
We have 25 years of experience
We provide on-site, custom services
We offer emergency and last-minute jobs
ISPM 15 export stamp
Contact Bay Area Crating Services to Learn More About Us
If you need customized packaging and crating, the experts at Bay Area Crating Services are happy to meet your needs. To discuss our wide variety of crating and shipping services in San Francisco/Bay Area, please contact us today. We look forward to working with you.
Providing Solutions to a Variety of Crating Needs