Skip to Content
Custom Crating Services
in San Fransisco & Sacramento
High-Quality Crate Packaging & Shipping
When it comes to shipping valuables like artwork, electronics, manufacturing supplies, and more, it helps to do it with peace of mind. Unfortunately, one-size-fits-all boxes don't always protect your belonging the way they should. That's where Bay Area Crating Service comes in to help. We supply custom crating to San Francisco, CA customers. Our crates are designed to fit perfectly and provide the ultimate protection on the journey to your product's destination. Bay Area Crating Service has served the Bay Area for over 25 years, which is experience that has served our custom crating skills well. Whether you're shipping to New York City or locally, our team takes care to build a crate that keeps everything snug and safe. We get the job done, and we get the job done right. So, do you need custom crating solutions? We believe so!
Our Multi-Faceted Custom Crating Services
We're proud of the work we do for our clients. We emphasize flexibility and customer service with each transaction. Our goal is to get your belongings to where they need to go without suffering any damage during transit. Our team builds relationships with our customers because they return to us the next time they need custom crating services anywhere in San Francisco, CA. You can depend on us to correctly package everything from heavy manufacturing machinery to paintings, sculptures, or antiques. We specialize in making the seemingly impossible happen. Bay Area Crating Service designs everything you need to send your belongs to where they need to go, including:
Packaging
Pallets
Containers
Crates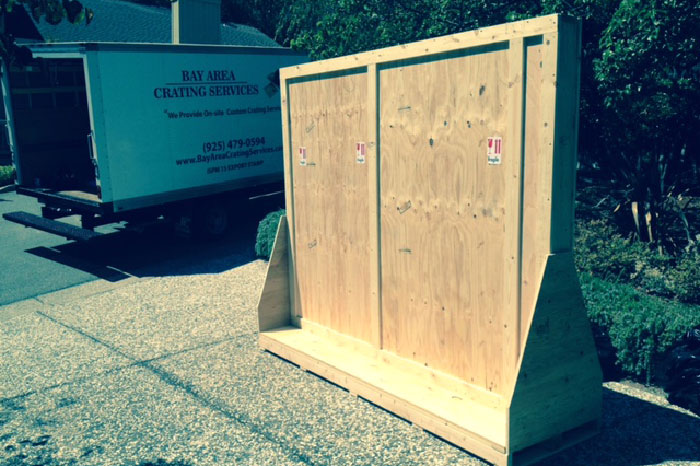 The Benefits of Custom Crating
You might not think wood crates are a reliable shipping container just by looking at them. However, we assure you they are. We use high-quality lumber and superior craftsmanship to design and build shipping crates that don't break on the long journey to Iowa, Florida, North Carolina, Indiana, or to anywhere else you're shipping. Custom crating solutions solve problems that arise when you are shipping products that are too fragile or oddly-shaped for conventional shipping methods. Custom shipping crates offer a plethora of advantages, including:
They Reduce Damage: Bay Area Crating Service designs, inserts and places protective materials inside the custom-built crates we design. But the shipping crates themselves are made of hearty materials and keep moisture, dirt, and debris from entering the packaging. More importantly, the hardwood and packaging keep everything safe.
They Stack: Warehouses love receiving custom shipping crates because they stack easily and don't break, which allows them to store more in their facility than they might ordinarily be able to. Some customers might not always consider this a benefit, but it's a useful one for commercial properties and individuals who are in the middle of a cross-country move.
They're Reusable: There's a lot of waste in the shipping and packaging industry. Bay Area Crating Service's custom crating solutions produces an eco-friendly solution that takes advantage of the reusable nature of wood. Even if you don't plan on using the crate itself again, it can be repurposed for any number of projects.
They're the Optimal Size: If you are shipping food service equipment – like industrial ovens – farming equipment, or industrial generators or compressors, then you need packaging strong and durable enough to get the job done. Bay Area Crating Service delivers that and more. Our custom crating is strong enough to transport items weighing several tons and durable enough to protect your investment. Additionally, they accommodate materials of odd shapes, like car or truck engines.
They Save Money: Shipping materials and packaging aren't your most significant expense when delivering expensive items; freight costs are. One of the benefits of custom shipping crates is they can be designed to reduce freight costs.
Contact Bay Area Crating Service Today
Our top priority is making sure you are pleased with our customer service. But we also ensure you're satisfied with the packaging and shipping service we offer. Please contact us today at 925-479-0594 to learn more about our services or to request a complimentary estimate.
Providing Solutions to a Variety of Crating Needs