Skip to Content
Vapor Barriers Crates in San Francisco
Bay Area Crating Services Offers Vapor Barriers Crates
To protect your valuable equipment and electronics, take advantage of Bay Area Crating Services' vapor barriers crates in CA. Our team is a leader in the shipping industry, having served customers in Northern California for more than 25 years. We know there is much more to shipping items than merely putting them in a box and hoping for the best. You must be proactive to ensure all of your belongings arrive at their destination safely, securely, and in proper working condition. Bay Area Crating Services uses innovative techniques and strategies to protect your equipment in all types of weather and transit conditions. Call us today to learn why utilizing crates with vapor barriers may be ideal for you.
Vapor Barriers Provide Added Protection from the Elements
External environmental elements can damage your belongings before, during, or after a move, so you should use vapor barriers when shipping sensitive equipment and items with bare metal surfaces. Objects shipped via an ocean container are susceptible to damage from saltwater or saltwater vapor. Other types of shipments around the Bay Area may be vulnerable to moisture damage from humid weather conditions. Such damage may include issues with electronics, rusting and corroding metal, and reduced functionality. But Bay Area Crating Services can provide vapor barriers within our crates to shield your valuables from moisture. Our experts will carefully inspect your shipment before selecting the vapor barrier that is right for you.
Understanding How Vapor Barriers Crates Work
Bay Area Crating Services uses vapor barrier bags that we customize to fit your products or belongings. They are designed to control the movement of moisture and prevent it from penetrating the interior of your crate or shipping vessel. Our vapor barriers are waterproof, flexible, and heat-sealable – qualities that collectively ensure the preservation of your goods throughout transport. Additionally, our advanced vapor barrier bags include activated desiccants to absorb moisture. We vacuum seal each of them to eliminate internal air volume, which ultimately protects against water vapor and humidity.
Contact Bay Area Crating Services Today
Valuable electronics and items featuring bare metal surfaces are prone to damage during shipping. Our custom crating options can help ensure they are not broken or impacted during transit, but we also go a step further. Because of the nature of these products, even small amounts of moisture vapor or humidity can cause problems. Electrical circuits can be irreparably compromised due to water damage, and metal can rust or corrode following significant exposure to moisture. Bay Area Crating Services understands the nuances of transporting such sensitive equipment, so we offer vapor barriers crates to customers in CA, and the surrounding area. Never again worry about moisture infiltrating your packaging and causing harm to your belongings. We will carefully and thoroughly wrap your items with vapor barriers that will endure over-the-road, air, or ocean shipping. Contact us today to learn more about vapor barriers crates and how they can benefit you.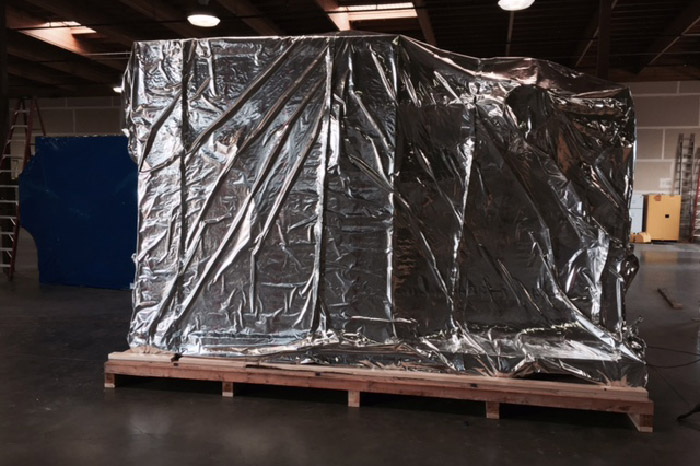 How We Pack Your Items for Shipment
The professional packers at Bay Area Crating Services carefully prepare all shipments to meet our customers' specifications and to ensure each piece of sensitive, high-value equipment remains dry throughout the transportation process. When we crate your belongings or products, we may include corrugated cardboard, specialized cushioning, anti-static materials, hard-shell cases, and various vapor barrier materials. We can even place humidity indicator cards inside your barrier bag that allows you to check the condition of your item as well as the desiccant upon receipt. Furthermore, our team can provide humidity indicator plugs that emerge from the vapor barrier so that you may check the humidity inside the bag without opening it.
Providing Solutions to a Variety of Crating Needs